Player's name:
Waterfall
Character's name:
Stillwater
Gender:
Female
Pure/Animal Blood (If Animal, Specify which):
Wolf-blooded
Soulname:
Drra
Known by:
Her parents
Life/Love-mate:
None
Cub(s):
None
Parents:
Soft Step (father, deceased) and Sweetshine (mother, missing).
Other relatives:
Hearteyes (father's mother)
Tribe:
Wolfrider
Tribal Position (Hunter, Gatherer, Tanner etc):
Hunter and fisher, explorer
Appearance
Height:
4''
Age:
47
Hair:
Reaches almost to her waist, black, a little wavy but not curly. Usually worn in two braids, or sometimes loose.
Eyes:
Dark green. Can be very intense when she's giving you her full attention. Her eyes often have a distracted look, as if she's thinking very hard.
Skin Tone:
Fair.
Body Type:
Slim but stronger than she looks.
Marks/Scars/Outstanding Features:
A long scar down across her right upper arm.
Clothing:
Stillwater wears brown leather shoes and similar trousers, which are laced with blue laces in the side. Her short-sleeved top is sewn together from scraps of leather dyed various shades of blue. She wears a brown leather jacket and brown leather braces with blue lacing on both forearms.
Jewelry:
A simple necklace with a blue stone, and metal earrings.
Weapons:
A dagger. She had a bow and arrows, but lost them.
Special Possessions:
A lock of her father's hair hidden in a small leather pouch.
Trades:
Abilities(no magic):
Hunting, fishing, dancing, and singing. She's getting good at sewing, but she prefers to leave it to others if she can. When she can, she practices scouting ahead of the tribe.
Magic (Does not include sending. If not able to send, please say so):
Watershaping (newly discovered).
Friends:
TBD
Personality:
Stillwater is, like her name implies, generally a quiet person. She's always thinking, and usually waits to act until she's decided what is best to do. When she has to act fast or is surprised she usually relies on instinct and long-practiced skill. This doesn't mean that she is shy; she can laugh, joke, and play with the tribe and with her friends, and if there is music involved she'll be the first to start dancing. She is fierce when fighting, and will defend her family to the death, but will otherwise try to avoid arguments with others.
Likes:
The two things Stillwater loves the most are her wolf-friend River and dancing. She also likes singing, roaming the forest on her own, swimming, hunting, and fishing. She's fascinated by her watershaping skill but hasn't quite decided if she really likes it.
Dislikes:
At the moment, Stillwater's most intense dislike is rain. Since her watershaping started developing she can sense the water around her, and she hasn't quite figured out how to turn that particular skill on and off yet. So for the moment, every rainfall is nothing but a constant, annoying distraction. Other things Stillwater dislikes are leatherworking, the cold, and bears. She hates not having any time to herself.
Personal History Information:
Stillwater is part of a group of Wolfriders called the Moonblade Wolfriders after their first chief. The group left the original tribe when Tanner was chief, during a period of peace and prosperity when the tribe had become too big to support all its members. At first the two tribes stayed in touch but as the years passed they drifted apart, and the Moonblade tribe travelled further and further away from their original Holt. When Stillwater was born the tribe had stopped wandering and settled down, and she spent the first 45 years of her live living peacefully in the forest with her tribe. But after a while the winters grew harder and the summers colder, food was scarce, and a strange illness killed several tribe members including her father Soft Step. Discouraged, the rest of the tribe left the area in search of a kinder home, but further tragedies befell them. During a terrible storm the tribe was separated by a flash flood, and Stillwater, her wolf River, her father's mother Hearteyes and her wolf Guide, tribe member Stonehand  and three of the other wolves were washed away downstream. Stillwater had already began to discover her watershaping magic, and used what little she had to keep them all together and afloat until they could reach dry land. Desperate to reach the rest of their tribe the small group travelled on, weakened but still searching. One day as they travelled, they heard a terrible cry go through their minds. Recognising it as the cry of other elves, they decided to move towards it, hoping that the rest of their tribe would do the same.
Fears:
Failing at what she tries to do, losing more members of her tribe, becoming ill.
Knowledge/Opinion of:
Humans:
Dangerous and frightening but relatively easy to avoid.
Trolls:
Creatures from old stories.
Preservers:
She doesn't know them.
Other Elves:
She knows they exist, her tribe has met them from time to time but not since before she was born. Other elves are allies, friends, and potential future tribemates.
Other Information:Bond Animal:
Name:
River
Age:
2 years
Gender:
Female
Species:
Wolf
Appearance:
Dark grey with a lighter belly, front paws, and muzzle.
Pack rank-(if appliable):
Low but not lowest.
Personality:
River is curious, and will often leap headlong into situations. She loves to play in water, and can get very silly. When she thinks Stillwater has been thinking for too long she'll pester her until she pays attention.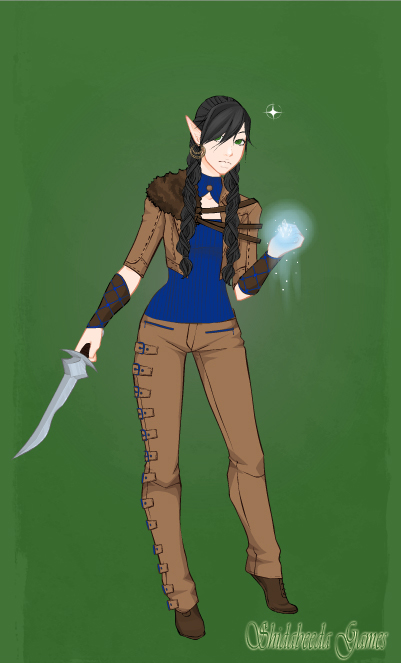 (Picture made with the
RPG Heroine Creator
.)
ETA:
Added other relatives, jacket, picture. Changed hair colour.
Last edited by Waterfall on Thu Oct 29, 2015 6:26 pm; edited 3 times in total

Waterfall




Posts

: 80


Join date

: 2015-10-21


Location

: Norway



So when I was making this I accidentally created a way for other Wolfrider characters to join the RP if they want to, as half of Stillwater's tribe is still missing and members could conceivably show up at any time...
Also, the two other characters I mention can be made into adoptables or NPCs, I have some information about Hearteyes but almost nothing about Stonehand except the name and what he does, really. They're part of the old holt I made in high school when I first came up with Stillwater. (She used to be called Waterfall but I changed that for obvious reasons.

)

Waterfall




Posts

: 80


Join date

: 2015-10-21


Location

: Norway



She sounds very interesting!
We are still developing the history for the Wolfriders of this holt and it is funny to see that ShineBright (moderator of the Wolfriders) came with a simular idea as to when the tribe split up.
You can be added to a specific group, found in the Guidelines Characters-section, if you want. Pm me if you wish to be part of a group

I think we will be a new tribe of Wolfriders, but please, if you have any thoughts on the other 2 missing tribesmembers, just add the in the adoptable-section! Who knows what will happen!
I think she is good to go! Watershaping is very rare, so I can imagine she would like a teacher. You can look in the tribal positions as to who that could be. (Shine is a treeshaper, she could help you!

) Though a wavedancer might have more knowledge on water!


ShineBright




Posts

: 211


Join date

: 2015-10-04


Age

: 41


Location

: The Netherlands



I'll add them to the adoptables when I have some time... it may take a while.

Teachers are a good idea, thanks! It eventually dawned on me that she'll probably end up interacting with the Wavedancers a good bit as well, yes.


Waterfall




Posts

: 80


Join date

: 2015-10-21


Location

: Norway



She's very intriguing with her intellegence and quietness, and a very beautiful elf!

Peacekeeper




Posts

: 68


Join date

: 2015-10-05


Age

: 57


Location

: Charleston, West Virginia USA



Thanks! I'm hoping I can actually play her like I've written her!


Waterfall




Posts

: 80


Join date

: 2015-10-21


Location

: Norway



---
Permissions in this forum:
You
cannot
reply to topics in this forum